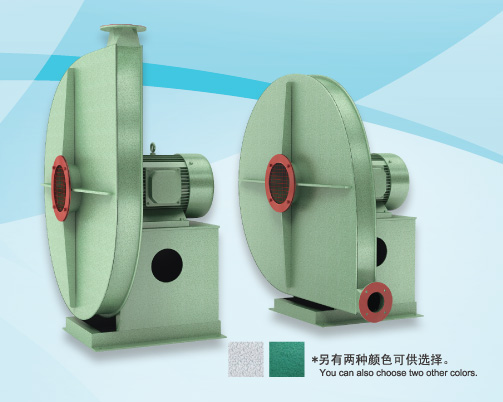 Range:
This kind of fan is mainly used for combustion and nozzle atomization, for example: the incineration furnace, heat treatment furnace, roaster, small forging furnace, annealing furnace, oven, etc.Widely used in blowing machine, tube drawing machine device and other industries widely used.

Features:
1.This kind of fan is a Imports alone single impeller centrifugal fan, features: low flow, high- pressure, low power consumption, small noise and so on.
2.The fan is A-direct drive, high efficiency, compact structure, smooth operation, easy to be placed.Some of which can also be made V-belt drive or coupling drive;
3.Installation, maintenance is simple.Fan can choose to install shock absorbers, imported silencer filter, export gas cylinders, flow control valve , etc.
JW
(20℃ standard state)

Nomber

Mmodel


Air volume m3/h

Wind pressure Pa

Power Kw

Speed r/min

1

JW-0.55A

140-215

2920-2450

0.55

2792

2

JW-0.75A

180-260

3500-2900

0.75

2840

3

JW-1.1A

300-450

4500-3600

1.1

2840

4

JW-1.5A

400-550

5100-4200

1.5

2840

5

JW-2.2A

500-600

7400-6600

2.2

2840

6

JW-2.2A2

540-660

6400-5450

2.2

2840

7

JW-3A

620-750

8700-7600

3

2860

8

JW-3A2

550-650

7900-6900

3

2860

9

JW-4A

800-1000

9000-8400

4

2880

10

JW-5.5A

900-1100

10000-9000

5.5

2900

11

JW-7.5A

1000-1200

8900-7600

7.5

2900

12

JW-11A

2000-2800

10200-9000

11

2930

13

JW-15A

2900-4000

9450-8300

15

2930

14

JW-15A2

2500-3600

10500-9300

15

2930

15

JW-18.5A

3500-5000

9700-8100

18.5

2930

16

JW-18.5A2

3200-4200

10300-9240

18.5

2930

17

JW-22A

3200-4500

11500-10400

22

2940

18

JW-22A2

3800-4900

10600-9300

22

2940

19

JW-30A

5000-8000

9000-8000

30

2950

20

JW-30A2

5200-6200

10800-9500

30

2950

21

JW-37A

6600-7900

11100-9400

37

2950